One of my favorite shirt on Mental floss is
As I have been learning and growing in my new position I have noticed an interesting trend.
One trend of interest to me is complaining. Now I have been lucky that being the new guy nobody complains to me, yet....
Here's my thinking about complaining:
We all experience problems through out our day. Being able to have the initiative to overcome that problem and make the decision to find/provide a solution in not natural to everyone. A lot of this relates back to chemistry and activation energy required to begin a chemical reaction.
I realize that some teachers just need to vent and complain, getting from problem to solution is not easy:
Some teachers complain because they just need help getting from point A to point B:
Many teachers see a problem and immediate begin working toward solutions, they are always the "do-ers" and immediately work toward solutions.
People are much like reactants in a chemical reaction. When I work with teachers I am striving, in my new position, to get from problem to solution and to be that catalyst: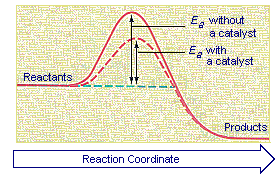 I very much see my job as being the person to lower the activation energy. Helping teachers to solve problems and achieve their goals.
How can we all see ourself as catalysts and work together to overcome the activation energy?
At the beginning of the year I show my students this video:
I use it for the remainder of the year when a kid sees a problem, I ask them if they are stuck on an escalator and if they are working to solve their problems. Sometimes they just need me to lower that activation energy and help in any way I can to assist them in achieving their goals.